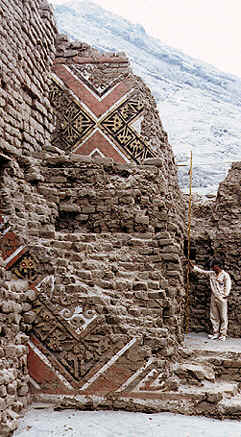 Before «burying» old buildings to construct new ones over them, the Moche builders sealed decorated walls. As a result, many of the walls and their friezes are still preserved. We know that there were multicolored murals on the outer wall of platform I, in the interior northeast corner of platform I and on platform III. But the better known ones are those in the patio on the southern side of platform I, the focus of recent archaeological excavations.

Thus far, four walls decorated with reliefs have been found, beginning with the first discoveries made by Ricardo Morales in 1990. The friezes are composed of a central figure accompanied by secondary figures. These images are repeated, with slight variations, along the walls. The main figures occupy the central portion of large rhomboids measuring up to 2.80 meters at their outer edges, while the secondary figures are located inside smaller triangles a the upper and lower corners of the rhomboids. The triangles measure 2.80 meters at their bases and are 1.35 to 1.38 meters high.

The large rhomboids were outlined with bands in high relief painted yellow with a black background. Inside the rhomboids, another smaller rhomboid was created, also outlined by bands painted yellow. Inside the smaller rhomboids Moche artists created a humanlike face painted yellow, red, white and black, with the bass relief of the rhomboid painted white. Between the outer rhomboid and the inner one there was a band with a geometric design that portrays the head of a fish in relief, also painted yellow, with a background or bass relief painted black.